Some time ago I came up with an idea to move some folders on a Windows computer to another (bigger) drive. From that moment Corel (CorelDraw or Corel PHOTO-PAINT) welcomed me with a message:
Please reconnect the device that has the file is location, or choose a new folder. In the meantime, content will be saved in the Corel default location. You can move the content after the file location is restored.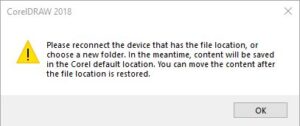 Continue reading "Corel error on startup – solution"