Some time ago I came up with an idea to move some folders on a Windows computer to another (bigger) drive. From that moment Corel (CorelDraw or Corel PHOTO-PAINT) welcomed me with a message:
Please reconnect the device that has the file is location, or choose a new folder. In the meantime, content will be saved in the Corel default location. You can move the content after the file location is restored.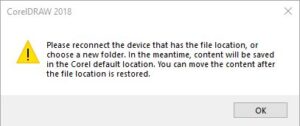 Unfortunately, we do not know what files are involved, but on the Internet I found that some people managed – if the program started – to change paths to the correct ones using the menu "Tools \ Options \ Global…  \ File Locations". Unfortunately, the version of the package I use is CorelDraw SE, which similarly to home and educational versions do not have this option.
In Windows, however, you can edit out these enigmatic locations. Just run the "Registry Editor" tool by simply entering the phrase "regedit" in the Start Menu (or search field).
In the tree on the left we look for a location:
HKEY_CURRENT_USER\Software\Corel\CorelDRAW SE\21.0\Box Preferences\File Locations
Where CorelDRAW SE is the name of our Corel package, 21.0 is its version and the rest should be similar.
On the right side we change the location to the folders (just double click on the line with the entry, there should be at least a few of them), in my case it was enough to simply change the drive letter, but you may need to correct the full path.
This should solve the problem.